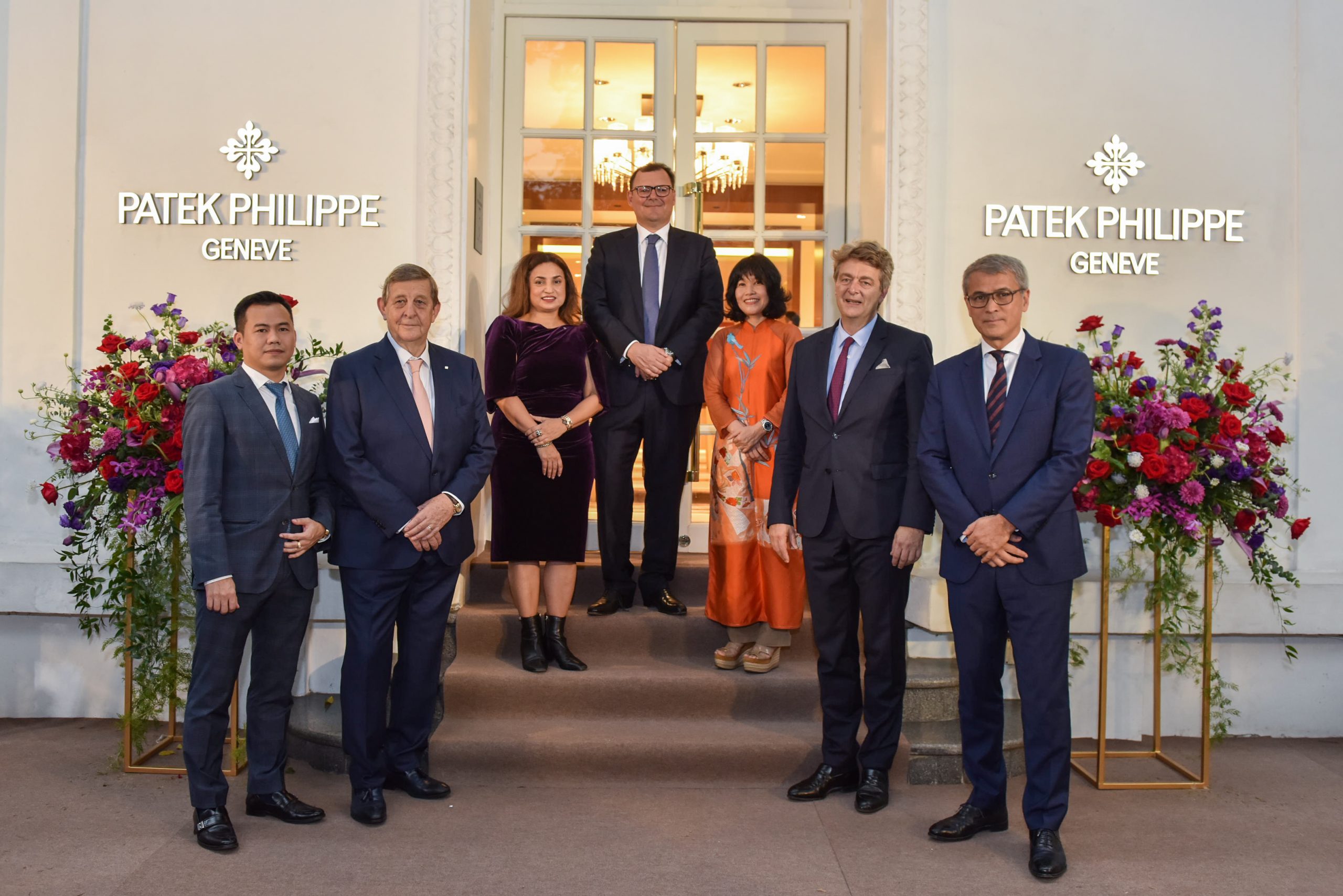 December 2018 – Tam Son opened the first Patek Philippe boutique in
Vietnam at the Legend Metropole Hanoi
The first Patek Philippe boutique in Vietnam has opened at the Legend Metropole
Hanoi after 10 months of comprehensive construction and fitting out work. An
expansive space that houses a treasure trove of the Swiss brand's most precious
and coveted timepieces, the Patek Philippe boutique spans an area of 200sqm and
is one of the largest in South-east Asia. This partnership with Tam Son
International Co. Ltd (Tam Son) and Patek Philippe aims to welcome watch
collectors and enthusiasts in a milieu that is reflective of the brand's commitment
to excellence and its spirit of tradition and innovation.
A new architectural concept driven by philosophy of excellence
The architectural concept of the boutique highlights Patek Philippe commitment to
excellence. An exclusive and environment of luxury watch retailing unlike any
other, the Patek Philippe boutique invites watch lovers to discover a wide selection
of Patek Philippe watches at spaces crafted for comfort and privacy.
Precious materials like bird's eye maple and Indian rosewood, burnished brass and
plush leather interiors provide a welcoming and luxurious environment for our
watch lovers. A three-tiered chandelier complemented with wall lamps fitted with
Baccarat crystals and appliques adds finesse and grandeur to the boutique design.
Moreover, to clearly identify the concept with Patek Philippe, a distinctive element
has been created with the brand's signature Calatrava cross pattern. Every detail
has been approached with meticulous care regarding the finishing, and the whole
concept has been enriched with decorative accessories
Besides the main sales area, the boutique boasts a lounge and library area where
guests can immerse themselves further into the realm of Patek Philippe's universe.
For guests who desire a more discreet shopping experience, this section can be
closed for complete privacy. These themes are constantly changing and clients /
visitors look forward to learn more on Patek Phialippe's history. Within the VIP
lounge, interior design elements include a hand-painted painting about the Patek
Philippe ten values in different languages and a cosy lounge atmosphere with a
library.
Down to the very last detail, this latest concept reflects Patek Philippe's passion
that drives creativity and its philosophy of excellence with a homely ambiance that
appeals to all senses.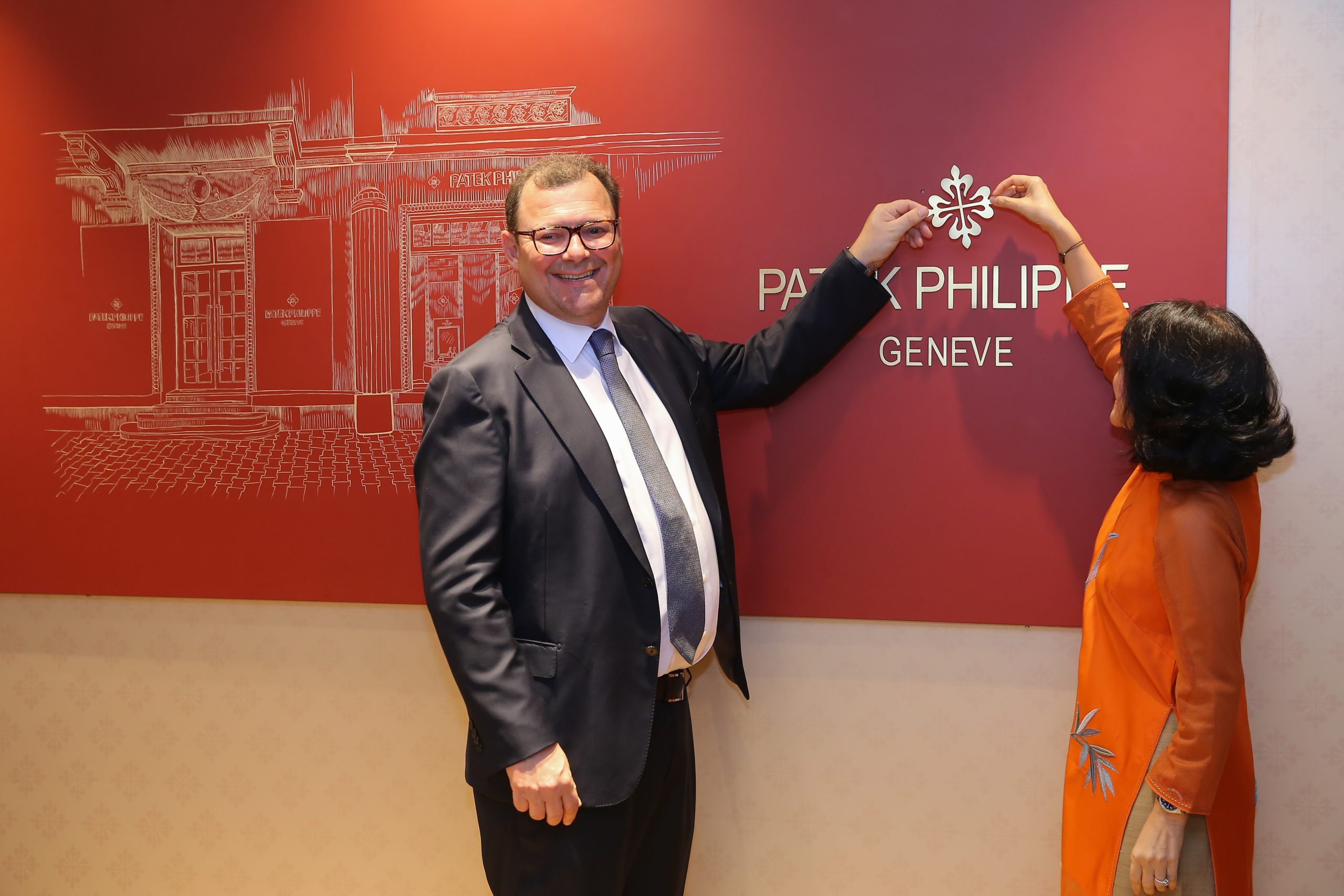 A valuable handshake in the luxury market
To provide its international clientele with service in keeping with its
reputation for excellence, Patek Philippe works with a handpicked
distribution network selected according to stringent requirements. Just
under 450 retailers represent Patek Philippe in over 60 countries. The
opening of the Patek Philippe boutique marks an important milestone in the
partnership between Patek Philippe and Tam Son. For more than 10 years,
Tam Son has been instrumental in shaping the luxury industry in Vietnam
and this maiden boutique only serves to reaffirm Tam Son's leadership
position in Vietnam's luxury market.
For more than 175 years without interruption, Patek Philippe has been
perpetuating the tradition of Genevan watchmaking. As the last family-owned
independent watch manufacturer in Geneva, it enjoys total creative freedom to
entirely design, produce and assemble what experts agree to be the finest
timepieces in the world – following the vision of its founders Antoine Norbert de
Patek (1839) and Adrien Philippe (1845). Thanks to its exceptional know-how,
Patek Philippe maintains a tradition of innovation hailed by an impressive
repertoire of more than 100 patents. In the hands of the Stern family since 1932,
Patek Philippe remains at the leading edge of watchmaking technology and
research into material sciences, thus contributing to the continual improvement of
the long-term quality and reliability of its timepieces.
About Tam Son International Co. Ltd
Tam Son International Co. Ltd., a member of the Openasia Group, a multi-industry
investment group established in 1994 in Vietnam, was initially founded in 2005
with a mission to bring global luxury fashion brands to Vietnam.
Since then, we have expanded our portfolio beyond fashion and into various luxury
fields including watches, jewelries, audio-visual, and home décor brands of more
than 10 internationally renowned brands. In 2017, Tam Son Yachting was
established as the official importer of Beneteau Group – the world's largest luxury
yacht manufacture, offering our valued customers personalized yacht sales and
management services.
Operating a network of 20 stores in both Hanoi and Ho Chi Minh City, Tam Son
plays an important role in the development of Openasia Group. From fashion to
other fields of luxury, the company has gained a leading position in Vietnam's
luxury industry by offering rigorous standards of professional excellence, a strong
commitment to brands' core values and long-standing relationships with our
customers.
Khách sạn Legend Metropole, 15 Ngô Quyền, Quận Hoàn Kiếm, Hà Nội
+84 2438281010