As one of the four big men in luxury retail industry in Vietnam, Mr. Doan Viet Dai Tu – Chairman of Openasia Group – has contributed to bringing "yacht culture" to Vietnam.
Quite secretly and rarely appearing in the domestic media, Openasia Group – the group founded and presided by Mr. Doan Viet Dai Tu is considered a rare competitor in the luxury retail sector next to the IPP group by Mr. Johnathan Hanh Nguyen.
While IPP has been stepping up investment in the aviation industry recently, Openasia Group – with its core business of investment banking and financial advisory services – has been quietly building an ecosystem for super luxury goods in the most favorable locations in Hanoi and Ho Chi Minh City, and at the same time developing very strongly in the field of providing high-end services.
The secret man of luxury retail industry
Born in 1963, Mr. Doan Viet Dai Tu is an overseas Vietnamese with French nationality. Mr. Dai Tu was trained in business administration, marketing and finance at the University of Paris IX – Dauphine. He established his first company in Sydney in 1986 and settled in Vietnam in 1994 to found Openasia, a branch of investment banking by Lazard Frères' Indochina.
Mr. Doan Viet Dai Tu has about 30 years of experience working in the fields of consulting and financial investment in Australia, France and Vietnam. He is also the co-founder of IPA Network, a company that helps European companies in Sydney, Australia since 1986.
In the early 1990s, Mr. Tu co-founded Openasia and then acquired the company from the French investment bank Lazard Frères in 1998. This notorious giant has succeeded in developing Openasia, a group of leading companies in Vietnam in the investment banking sector, with a private portfolio spanning multiple sectors.
Established in the early 90s of the 20th century, Openasia Group's initial field of activity was investment banking and financial consulting services. This group has consulted for more than 600 customers who are domestic and international companies such as Vinamilk, Metro Cash & Carry, and Satra for nearly three decades.
However, in recent years, Openasia Group has gradually diversified its investment strategy, pushing into many different fields including high-end product distribution, aviation equipment business, technology, tourism, as well as handicrafts, fine arts, smart consumer cards and investment consultation.
Through its subsidiary Tam Son Fashion, Openasia Group has become one of the largest luxury fashion product distributors in Vietnam – directly competing with the "king of brands" Johnathan Hanh Nguyen, with the portfolio of brands such as: Hermès, Chopard, Bottega Veneta, Saint Laurent, Kenzo, Hugo Boss, B&O …
Tam Son's stores are also located in the most luxurious locations in major cities. In Hanoi, the unit's brand-name distribution stores are located at Sofitel Metropole, Melia Hanoi, Trang Tien Plaza, or streets like Ly Thai To. In Ho Chi Minh City, Tam Son chooses Sheraton Saigon Hotel, Union Square, or the most expensive streets in District 1 such as Nguyen Hue, Nam Ky Khoi Nghia.
Openasia's brand-name business model is to import and distribute directly to consumers through a system of high-end retail stores invested by themselves. Information from this distributor a few years ago said that the initial investment cost for a high-end retail store usually ranges from 2-4 million USD, especially up to 6 million, renting premises in the first 1-2 years, designing interior and exterior, hiring staff, promoting marketing … With the current system of 20 stores, cash alone can cost Openasia Group several tens of millions of USD per month.
For the tourism – resort segment, Openasia Group owns Press Club restaurant with a prime location next to Hoan Kiem Lake, a hotel brand – Alba Resort, and Emeraude Ha Long yacht. Doan Viet Dai Tu is also believed to be the one who brought Starbucks back to Vietnam.
In addition to fashion products and resort services, Openasia Group also operates in a number of other fields such as information technology services, handicrafts, truck trading, mining equipment …
The newest brand invested by Openasia is Toong – the first co-working space chain in Vietnam, which has opened 3 locations in Hanoi.
Mr. Doan Viet Dai Tu is also the Chairman of Lien A International Joint Stock Company, which distributes Audi brand cars in Vietnam. Mr. Tu is a founding shareholder holding 80% of Lien A, but at the end of 2016, he transferred his shares to Openasia Equipment and Pacific Wheel – two companies headquartered in Hong Kong.
Who writes "yacht culture"?
As a French national, perhaps the passion for sea excursions has been absorbed in Doan Viet Dai Tu's blood, and then in 2017, Tam Son Yachting was officially born, cherished by Mr. Tu's feelings and aspirations for the tourism and cruise industry in Vietnam.
When talking about yachts, he said, the key is service, because yachts are very complicated to maintain and operate, and in Vietnam, we don't have a yacht culture. We don't have people who know how to manage yachts, so what we did from the beginning when we started Tamson Yachting about 3-4 years ago was build an ecosystem for it.
According to him, the bottom line of a yacht business is service. "If you sell boats, you have to guarantee the service. Otherwise, you should not think about it, because it is disrespecting your customers," he said.
Pursuing this idea from the opening of Tamson Yachting, Mr. Tu set up a technical team to do the service. "I recruited 15 engineers and captains, and then we started selling. But that's not enough. The tricky thing is finding a captain who can run a five-star hotel. Yes, the yacht is a 5-star hotel, and who is the captain? The captain is a professional guide: he should have enough knowledge to meet the needs of his customers about a journey on river, across the sea and anywhere else. Along with that, he is also their best friends: someone who ensures their safety, gives them all the beautiful experiences, welcomes and listens to them when needed.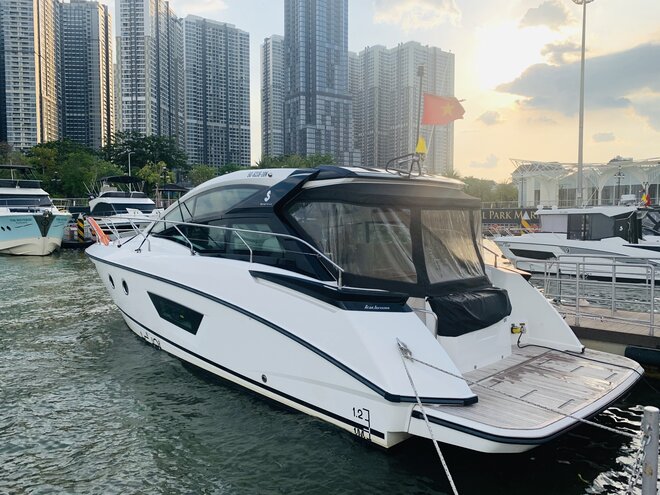 The captain is also a hotel manager: someone who makes sure all rooms are clean, even when he's not there, but in the cockpit. Therefore, he needs to be thoroughly trained, not only in equipment maintenance but also in operating luxury services," said Mr. Tu.
Talking about bringing yachts to Vietnam, the owner of Openasia Group said: "As everyone knows, our group is a lifestyle corporation, which means that we cater to everyone during their journey. Every morning we wake up, our customers can put on Saint Laurent suits, Bottega Veneta shoes and Hermès bags, drop in for coffee at Starbucks, then drive the Audi to the office in Toong, and at the end of the day to Press Club for dinner with friends, then visit a store like Hanoia to buy something as a gift. Whether they go to our Alba Wellness Resort in Hue, or go on a Bénéteau cruise with friends, it is a journey of someone who wants to reward themselves and have a certain lifestyle. We bring them brands to guide that journey.
It's important that we always have the best brands. You can't have a bad experience with Hanoia, Hermès or Audi. The yacht is similar. We have spent a lot of time deciding which are the best brands. So first, we aim for the number one name in the world: Bénéteau, a French yacht company. And with catamaran, we also found another number one is Lagoon. Occupying 40% of the total market share of catamaran in the world, Lagoon is so famous that in some countries, people call Lagoon instead of the word catamaran, as well as the way Vietnamese people talk about Honda instead of motorbikes".
And then he went for the super yacht. He approached an Italian company famous for its super yachts, Monte Carlo. "Like how you can customize with Hermès and Audi products, the Monte Carlo offers as great customization as a real super mega yacht in the size of a much smaller version, like 56 or 105 feet. Besides, Monte Cardo is also very famous for its Italian aesthetic, which gives the company a series of prestigious awards each year," Mr. Tu said.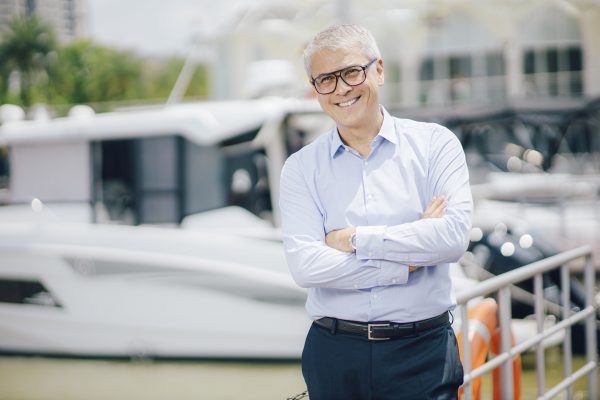 Thus, he has a chain of famous brands with 150 models, enough to meet all the needs of customers.
"If you want to enjoy a weekend with friends and are living in Saigon, you will need some unique yachts. If you are the owner of a company you want to buy a yacht instead of rent at the hotel or a seaside resort, you will need another yacht model. Depending on your purpose you may have many different choices. Sometimes the differences between models are fragile, and you have to really understand in order to sell the right products. You have to understand the market, the customer, the finance, the technology … There is a lot of knowledge and skills required to do this business, not only to do with sale," Mr. Tu analyzed.
"That is the reason that 2 years ago, we opened a yacht service center, with staff and full services. It can be said that this is the first yacht service center in Vietnam. More than 80% of yacht maintenance is on water, but at least once or twice a year, we need to take it out of the water for cleaning and inspection. We need the facilities to do it safely and securely. And the special thing is that this center serves everyone, not just Tam Son customers."
Talking about the difficulties in operating this luxury sector, Dai Tu said, a yacht costs between $ 15,000 and $ 15 million (including taxes), and most yachts are priced around $ 1 million USD. Therefore, it is very important to operate the whole ship. The first difficulty he encountered was that there were no marinas in Vietnam. We cannot just park a yacht on some river or sea and let it wear out over the years.
"When a man buys a yacht (most yacht buyers are men), they'll want to take care of it like a lover. They can't leave their lover at the bus stop and let her take care of herself," said Mr. Dai Tu.
That is the reason that in Saigon, he has 2 marinas, one in Vinhomes Central Park, the other in Swan Bay.
"We put a lot of money and effort into creating these two marinas, and it's all about serving our customers. Many yacht buyers are just for price, design and technology. Of course, all of these factors are extremely important, but what they should not ignore is the after-sales service: they need a marina with a service team ready to fix any damage that arises, and that's what Tamson Yachting brings," Mr. Tu said.
The owner of Openasia also said that he will develop a charter cruise. "There will be a few boats owned by us, a few boats belonging to other owners who are our customers, and we manage the leasing for them. We have two foreign experts in our team – two French men who have been attached to this industry for a long time, and they have been training our team of captains and engineers for several years," said Mr. Dai Tu.
"We not only rent big yachts but also small models for a few hours, to go from Thanh Da to Dong Nai for example, a very interesting experience. In addition, we also have plans to operate water games. At Swan Bay, we are planning to create a kayaking area and a sailing school, because we have a variety of sailing yacht models. Swan Bay is like an isolated island, the waters there are very quiet, without many obstacles, very convenient for upcoming plans."