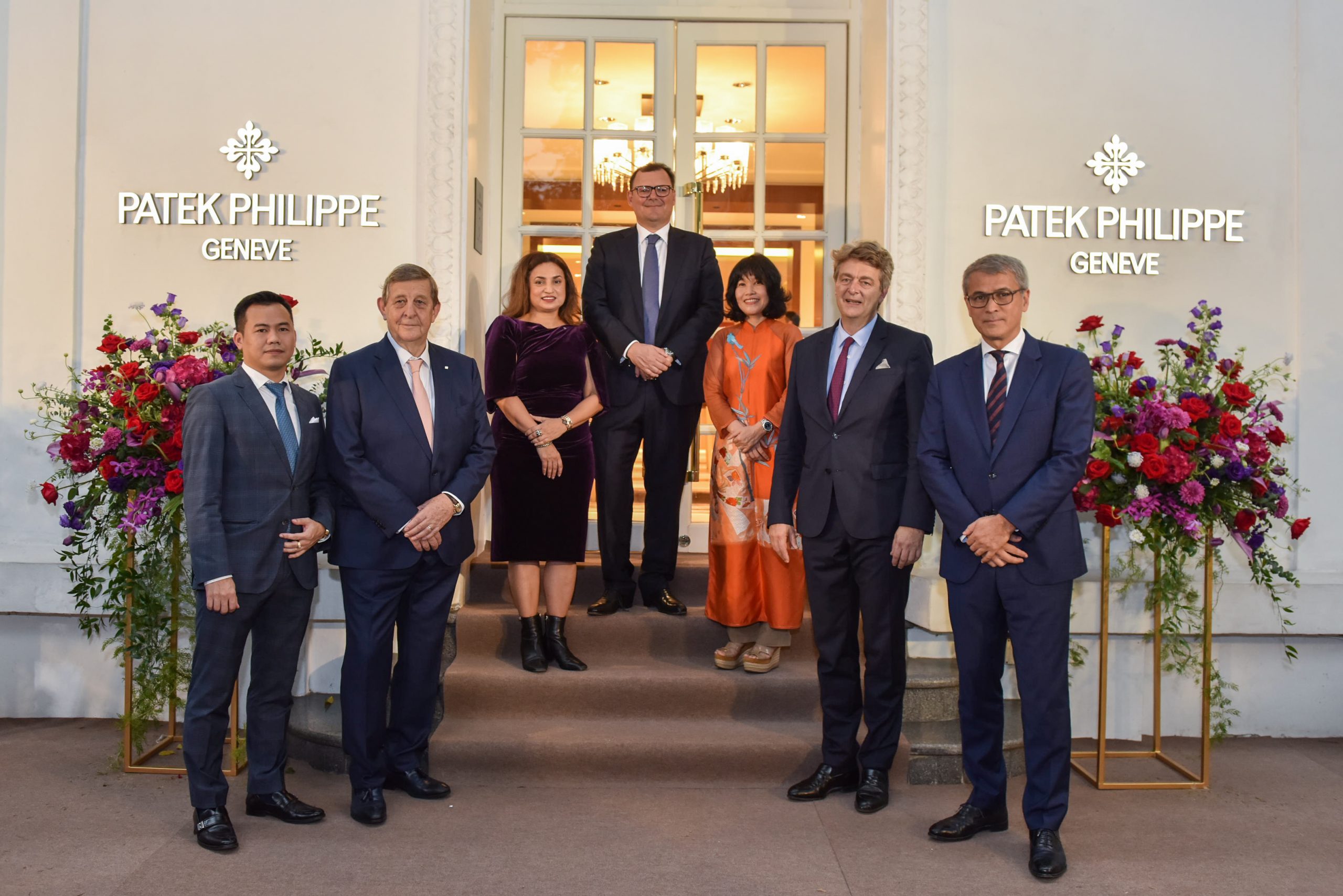 The first Patek Philippe store in Vietnam opened at Legend Metropole Hanoi Hotel after 10 months of extensive construction and installation. Set in a spacious space containing a treasure trove of the Swiss brand's most coveted and precious timepieces, the Patek Philippe store has a total area of 200m2 and is one of the largest in Southeast Asia. This is the result of a close partnership between Tam Son International Company Limited (Tam Son) and Patek Philippe, to welcome watch collectors and enthusiasts in a space that excellently reflects our commitment to quality, traditional spirit and constant innovation of the brand.
ARCHITECTURAL CONCEPT IS ORIENTED BY THE PHILOSOPHY OF EXCELLENCE
The store's architectural concept highlights Patek Philippe's commitment to constantly seeking excellence. A world of luxury timepieces that is hard to find anywhere, the Patek Philippe store invites chronograph lovers to explore the Patek Philippe collection of masterpieces with interiors that celebrate comfort and privacy.
Precious materials such as bird-eye wood or Indian rosewood, polished brass and real leather are incorporated into the interior decorations to provide a classy and welcoming atmosphere to watch lovers. Right at the central hall of the store is a gorgeous three-story ceiling lamp with beautiful little wall lamps crafted with Baccarat crystal. Moreover, to emphasize Patek Philippe's trademark, the Calatrava cross was used to create a repeating motif throughout the store. Every detail is perfected with care and respect, and the entire store is honored with rich decorative accessories.
ENHANCING THE EXPERIENCE FOR EXCLUSIVE CUSTOMERS
Besides the main sales area, the store also boasts a living room and a small library dedicated to Patek Philippe high-class guests wanting to explore the world. In particular, this space can be completely separated from the outside areas to create absolute privacy, for those who want to enjoy a more discreet shopping experience.
The pictures in the room are changed regularly to help customers learn more about the history of Patek Philippe. In addition, unique decorations such as Patek Philippe's 10 core values painted in different languages or a small library cabinet where customers can relax and read books about the history of the brand or art and lifestyle can also be found here.
In every little detail, this boutique embodies Patek Philippe's passion for creativity and unsurpassed philosophy in a space that both stimulates all senses, and is as familiar as home.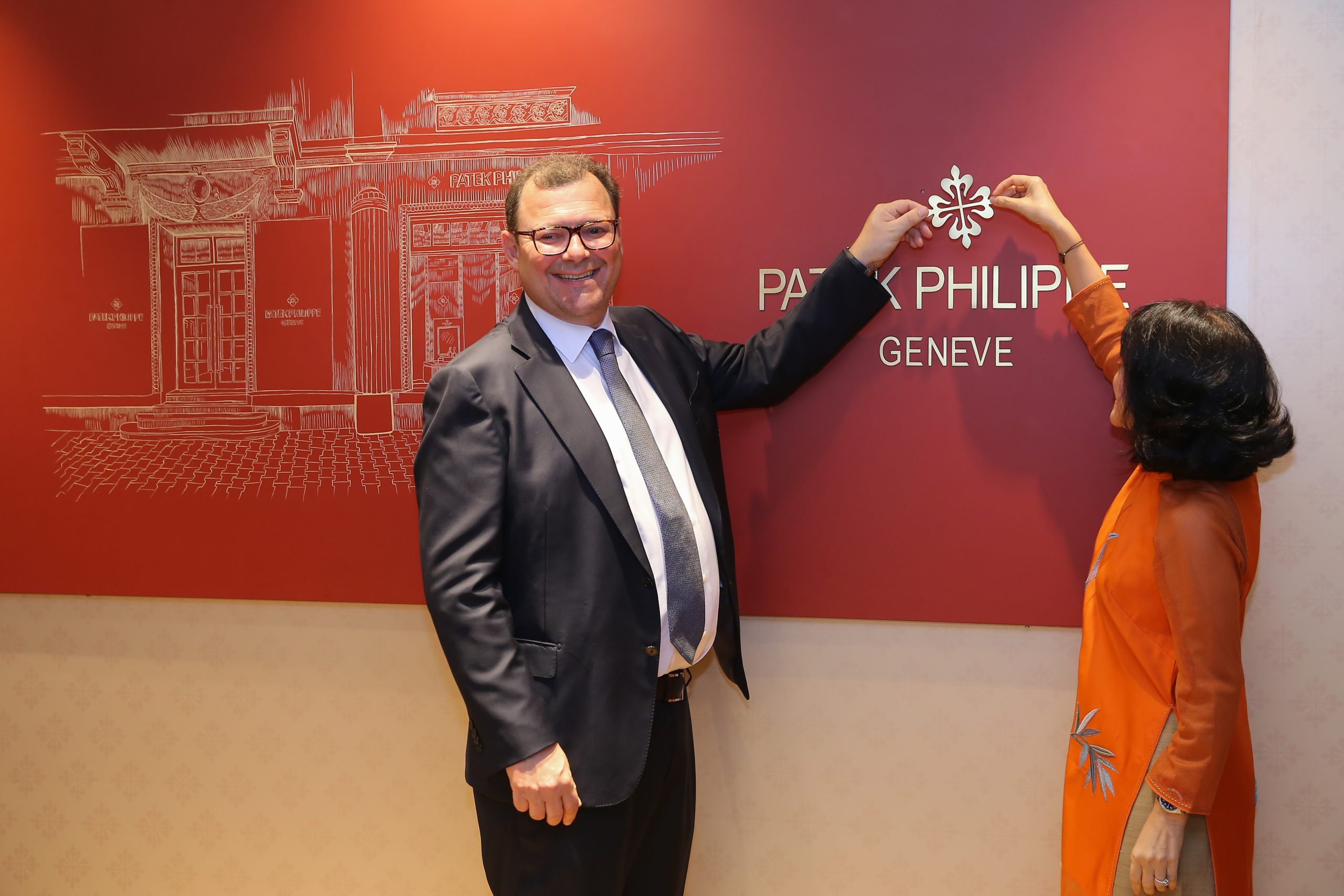 A VALUABLE HANDSHAKE IN THE MARKET OF LUXURY GOODS
In order to provide customers around the world with such classy service as reputed by the brand's pursuit for excellence, Patek Philippe has partnered with a carefully selected distribution network with stringent regulations. Currently, there are less than 450 Patek Philippe stores in more than 60 countries around the world. The launch of the Patek Philippe store marks an important milestone in the partnership between Patek Philippe and Tam Son. After more than 10 years of operation, Tam Son has greatly contributed to the shaping of Vietnam's luxury goods distribution market, and this first Patek Philippe store is the consolidation of Tam Son's pioneering position in the whole market.
HIGHLIGHTS ABOUT PATEK PHILIPPE
For more than 175 years of uninterrupted operation, Patek Philippe has inherited the Geneva watchmaking tradition. As Geneva's last independent family-owned watchmaker, the brand has complete freedom to create, design, manufacture and assemble without any external control to create what experts consider to be the greatest time machines in the world – following the visions of founders Antoine Norbert de Patek (1839) and Adrien Philippe (1845).
Thanks to its rare know-how, Patek Philippe maintains an innovative tradition with an impressive portfolio of over 100 patents. Preserved by the Stern family since 1932, Patek Philippe has always been at the pinnacle of watchmaking technology and research in material science to conquer the relentless quest for durable, quality time machines and reliability.
HIGHLIGHTS ABOUT TAM SON INTERNATIONAL CO., LTD
Tam Son International Co., Ltd. is a member of Openasia Group, a multi-industry investor since 1994 in Vietnam. It was established in 2005 with the mission of bringing luxury fashion brands to Vietnam.
Since then, we have expanded our distribution from fashion to other luxury sectors including watches, jewelry, audio-visual equipment and interior decoration with more than 10 internationally renowned brands. In 2017, Tam Son Yachting was established as the official importer and distributor of Beneteau Group – the world's largest luxury yacht manufacturing company, offering exclusive sales and after-sales services for high-end customers.
Operating a network of more than 20 stores in Hanoi and Ho Chi Minh City, Tam Son plays an important role in the development of Openasia Group. From fashion to other luxury fields, the company has gained a pioneering position in the industry with strict standards of professionalism and loyalty to the core values of distribution brands and forging long-term relationships with customers.
The address of the Patek Philippe store:
Legend Metropole Hotel, 15 Ngo Quyen, Hoan Kiem District, Hanoi
+84 2438281010